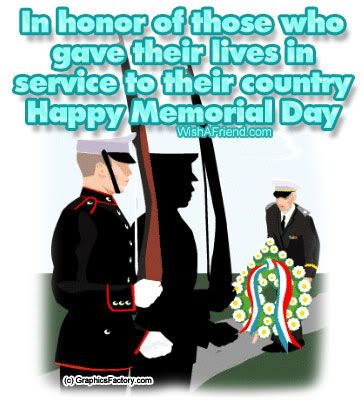 Myspace Graphics
,
Memorial Day Graphics
at WishAFriend.com
We have bbq's and serve watermelon and lemonade but I really hope people don't forget the real reason for Memorial Day. I can't thank those family's enough that their loved ones sacrificed themselves for our freedom. I can't thank the family's enough whose husband or wife is currently serving to protect us. Not only is it a sacrifice from the one that serves, it is a sacrifice to the wives or husbands who are left behind, or the children that have to go month's or forever without seeing a parent. We thank you .
Since this is Memorial Day and I know there are picinics and bbq's going on today. Here is a recipe for chocolate Ice Cream that is so easy I think you will love.
Easy Rocky Road Ice Cream
1 can sweetened condensed milk
1/2 cup unsweetened cocoa powder
1/2 cup marshmallows
1/2 cup chopped nuts
2 cups of heavy cream
1 cup half and half.
in a saucepan on the stove mix condensed milk and cocoa powder. Mix on low for about 5 minutes until mixture is warm. Remove from stove and cool. Next add heavy cream and half and half. Mix together cover and chill. Freeze according to your ice cream makers instructions and about half way through add marshmallows and the nuts. Enjoy.
Monday:
Panko Crusted Tilapia
Tuesday:Roasted Chicken
Wednesday: Patty Melt
Thursday: spaghetti
Friday: FFY ( fend for yourselves, leftovers etc)