How blessed am I , my son and his father went fishing again and guess what he brought me back!
So I know have a freezer bag full of blackberries! So I decided to make a blackberry cobbler!
1 and 1/2 cup of black berries
1 stick of butter1
1 cup of butter
1 cup of sugar
1 cup of milk
1 cup of self rising flour
Preheat oven to 350. Melt stick of margarine in 9x13 pan while oven preheats. Meanwhile mix sugar, flour, milk together. Pull pan of melted butter out and pour in the flour mixture. Next pour berries over flour mixture (do not stir) bake for 45 minutes until golden brown!
Linking up with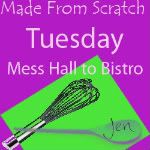 Tuesday's at the Table
Tasty Tuesday